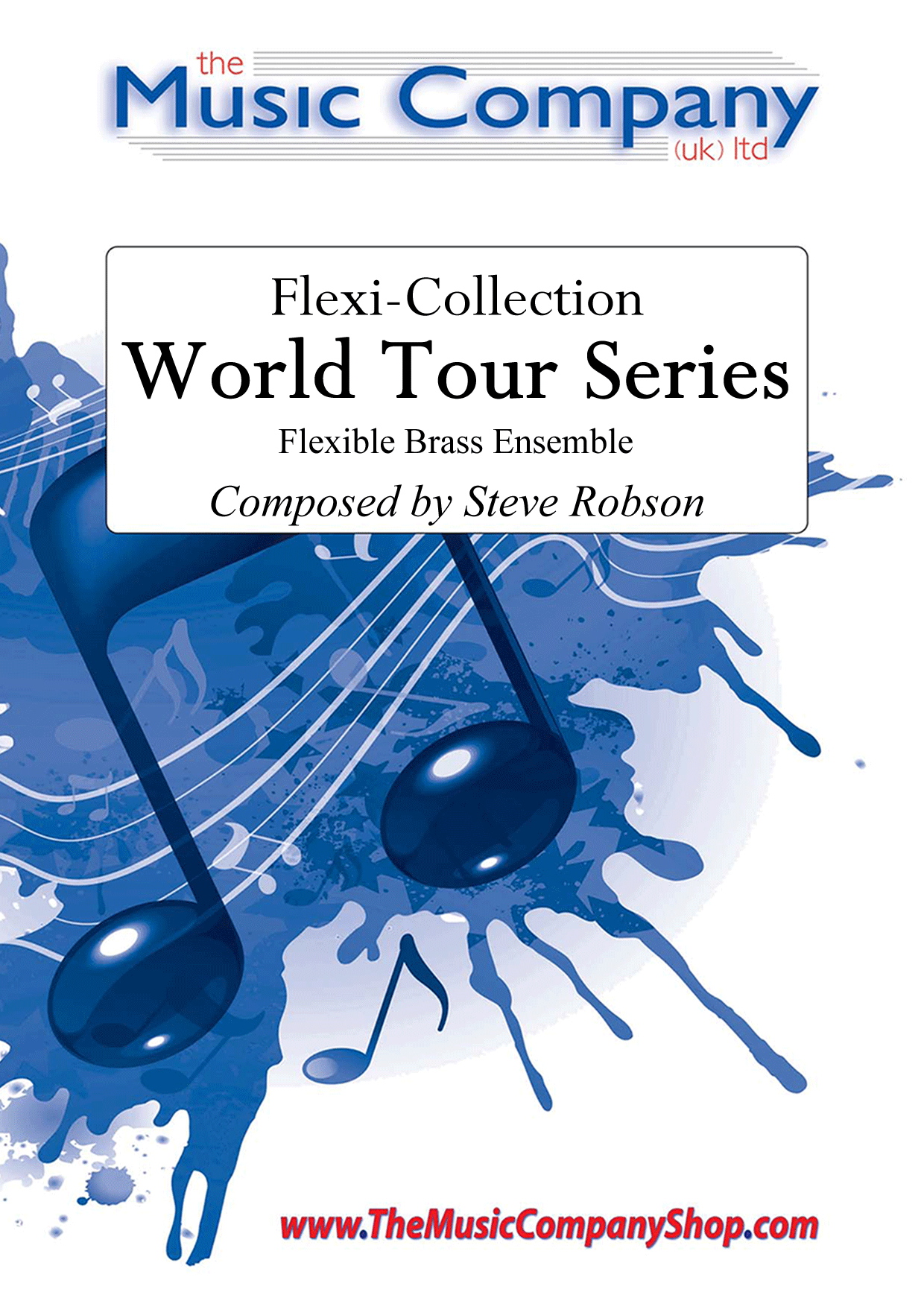 #FlexibleFriends: WORLD TOUR
There are no travel restrictions with our World Tour Flexi-Collection series offering flexible scoring for Lockdown-Limit-Friendly playing – regardless of how your group size grows over the coming months, our Flexi-Collection titles can grow with you.
The Flexi-Collection – World Tour Series is a collection of eight original compositions by Steve Robson, intended to give a flavour of the many styles of traditional music represented by the key selected countries.
African Dawn – South Africa – A chant with responses
Buenes Aires: You've Been Tango'd – Argentina – A national dance
Caribbean Calypso – Trinidad – Afro-Caribbean dance genre
Children of Chernigov – Ukraine – A Cossack dance
Square Dance – USA – a hoe-down dance
Terracotta Army of Mount Li – China – Inspired by a unique discovery
What's The Matter Horn – Switzerland – A knee-slapping Alpine dance
Windmills of La Mancha – Spain – Inspired by literary genius
---
Available in print (score and parts) both as individual titles or as a complete album (at a discounted price) of all eight titles:
The series also provides a collection of educational and further learning information to assist band trainers of younger groups in maximising the benefits of their rehearsal and performance times.
Every part of the world has developed its own musical traditions, and it is hoped that within the medium of a brass band, the musicians and audiences will be able to identify with the inspiration behind each of the pieces, and hopefully learn a little about how the different cultures have evolved.
Individually, the pieces are of a manageable length and offer development challenges for younger players, and flexible repertoire for brass ensembles/bands from 6 – 600+ players! Whilst the pieces can be selected individually for a performance, their diversity in musical style lends them very well to presenting the full collection as one epic performance.
Encouragement for Percussionists
Every piece has the opportunity to use a range of percussion, from basic to ambitious. This will really add to the overall experience if you can you have any budding percussionists in your group, but the music is scored to ensure it will also work well with just the brass parts.
Learn Together Moments (LTMs)
Every individual part for each of the 8 pieces in the collection includes two pages of 'Learn Together Moments' and a further page of rudimentary theory information and references. Together, these are designed as an educational aid to introduce the musical skills included in the Flexi-Collection – World Tour Series, which may be new to some or all of your players.
LTMs give an opportunity for the whole band to warm up together, and focus on these new skills as a group. There is also the
opportunity for the percussion players to join in whilst the brass players can experiment with how it feels to be a percussionist!
Further Learning Through "Check It Out" Suggestions
As support for developing/younger groups, each score includes background information about the piece and/or its inspiration as a helpful, ready-prepared introduction for conductors to use at concerts. In addition to the musical information, further learning suggestions are also offered through the Check-It-Out listings. These suggest related topics for the players to research, consider and discuss, making rehearsals educationally multi-faceted and a way to invoke a better understanding of the influences that make music an ever-evolving art-from.
Performance Ideas
So much of our folk culture and music is associated with dance forms, and so several of the pieces present opportunities to consider collaborating with a local dance group or school to include a visual aspect to the performance. Caribbean Calypso in particular also opens the stage to the possibility of a joint performance with a Steel Band, so the possibilities are endless.