Welcome to The Music Company (UK) Ltd Online Shop
We're publishers and retailers of books and music for Brass Band, Training Band, Junior Band, Concert Band, Brass Ensembles and Brass Instrumentalists, written by our talented group of new, established and award-winning writers.
New Releases and Featured Titles
Did you see our latest advertisement online and in Brass Band World?
We've got some great new works for you to enjoy!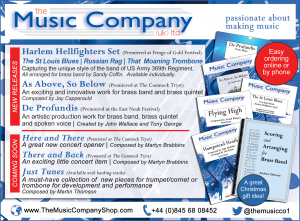 We're just updating our online shop to enable you to see and hear some of our latest releases from some fantastic writers.
Check back in a couple of hours and we'll have the sample score extracts and soundfiles (and maybe even some live performance video) for you to enjoy.
Sharing Our Passion for Music
The Music Company (UK) Ltd is an ideal starting point for the inspiration you need to formulate your concert and contest programmes - we represent a diverse collection of composers and arrangers who offer an equally eclectic mix of music styles from classical, through traditional and popular, to contemporary and explorative creativity.
Crackers for Christmas
It's never too early to plan for next year, and it's never too late to grab a bargain for this year!
We're updating this space with some great discounts on our Christmas titles.
Check back in a couple of hours and be the first to do your Christmas Shopping for 2018!
Easy Shopping
We've aimed to make your shopping experience with us as easy as possible, and are continually improving the information you can access to assist you with your purchases.
Sample scores and soundfiles are being added to each music title in the catalogue and we will soon be launching a Writer Section which will provide background information on each of our writers - helping you with your programme notes and concert introductions.
We are also always happy to offer suggestions and inspiration for your concert, own choice contest and entertainment contest programmes - many of our titles already have tags which refer to "concert" and "contest", but contact us direct if you would like more assistance.
To Register or Not to Register?
You don't need to register for an account to make a purchase - you can be our welcome guest!  
However, if you DO decide to register, we can keep you up to date with new releases through our update service and offer you special discounts throughout the year which are reserved specifically for our account holders.
Registering for an account will also enable you to track the processing of your orders, access details of previous orders and download copies of your order documentation.